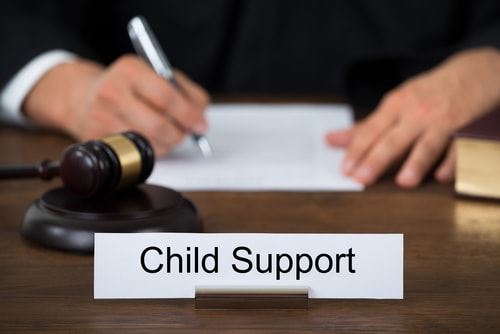 The Attorney General of Texas provides a monthly child support calculator for people to use when trying to determine an estimate for a single source of income. Texas Family Code § 154.125 establishes that child support is issued according to the following percentages of net resources. These apply when the paying parent's monthly net resources are less than the maximum amount of net resources to which the statutory guidelines apply:
20 percent for 1 child
25 percent for 2 children
30 percent for 3 children
35 percent for 4 children
40 percent for 5 children
Not less than 40 percent for 6 or more children
If an obligor's monthly net resources are under $1,000, the court will generally apply the following schedule in creating the child support order:
15 percent for 1 child
20 percent for 2 children
25 percent for 3 children
30 percent for 4 children
35 percent for 5 children
Not less than 35 percent for 6 or more children
Additional Child Support Notes
Net resources will include several different kinds of income. A court will take the total amount of money a person receives from all sources and deduct various taxes and the cost of a child's health insurance to determine net resources.
Supporting other children can impact a court's decision. A person's net resources will not be more than $9,200 per month when calculating child support obligations. 
Even when a paying parent's net resources are more than $9,200 a month, the percentage will only apply to the initial $9,200. Cases in which a child's needs are greater than the presumptive amount of support can lead to complications in which the circumstances of both parties may require further examination.
Texas Family Code § 154.001 establishes that a court can order either or both parents to support a child in the manner specified by a court order until a child either reaches 18 years of age, graduates from high school, is emancipated through marriage, achieves removal of disabilities of minority by court order, until the death of a child, or by another operation of law, or if a child is disabled as defined in this chapter, for an indefinite period.
A court usually orders people to pay child support monthly or bimonthly, typically depending on how often a paying parent is paid. Child support can be deducted from the paycheck of a paying parent through wage withholding.
Contact a Collin County Child Support Lawyer 
If you are currently struggling to agree on child support with your former spouse, you may need to retain legal counsel to achieve a resolution. A Plano child support attorney at Law Office of Brian Bagley will be able to help you secure the child support agreement that protects your rights. Attorney Brian Bagley serves clients throughout the region. You can call (972) 843-7158 or contact us online to set up an initial consultation to further review your case.
Sources:
https://csapps.oag.texas.gov/monthly-child-support-calculator
https://statutes.capitol.texas.gov/Docs/FA/htm/FA.154.htm#154.125
https://statutes.capitol.texas.gov/Docs/FA/htm/FA.154.htm#154.001