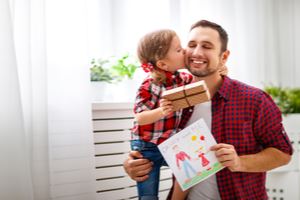 Becoming a father should be a life-changing moment in any man's life. However, there should be no clouds of uncertainty hanging over you or the child. If you are uncertain of your paternity or if your paternity is being disputed by the child's mother, there are steps you can take to legally determine if you are the father of the child. No matter what led to the disputed paternity case, the legal establishment of paternity can benefit the child, the father, and the mother.
Options for Establishing Paternity in Texas
If a man and woman are married, or if the child is born within 300 days of the couple's divorce, the man is legally presumed to be the father of the child. For couples who are not married but agree on who the father of the child is, paternity can be established by both parents signing an Acknowledgment of Paternity (AOP) form. This form is only legally valid if both parents sign.
If there is any dispute or uncertainty over who the father of the child is, then the simplest way to establish paternity is through a DNA test. After a paternity suit is filed, then the mother, father, and child will have their DNA tested through a simple cheek swab. The accuracy rate of the tests is nearly perfect.
Benefits to Establishing Paternity in Texas
With the establishment of paternity, the father's name will be placed on the child's birth certificate. You will gain the legal responsibility to provide child support, but also the ability to seek at least partial custody rights for the child. If you do choose to pursue shared custody, courts in Texas will weigh many different factors, including the needs of the child, the ability of each parent to care for the child, any history of domestic abuse or violence by either parent, and, if they are old enough, the child's custody preferences.
The mother of the child will benefit by legally having another parent to support the child, both financially and by having another adult in the child's life. Finally, the child will probably benefit the most. Outside of the material benefits of having the financial support of both parents, a child has a better chance of a stable life when both parents are involved in their upbringing.
Consult With a Plano, TX Fathers' Rights Lawyer
If you are seeking to establish paternity, pursuing custody rights, or need legal representation in any other father's rights case, you can trust the Collin County paternity case attorneys at Law Office of Brian Bagley. Call us today at (972) 843-7158 for a free consultation.
Source:
https://statutes.capitol.texas.gov/Docs/FA/htm/FA.151.htm
https://statutes.capitol.texas.gov/Docs/FA/htm/FA.160.htm
https://www.texasattorneygeneral.gov/child-support/paternity/court-ordered-paternity