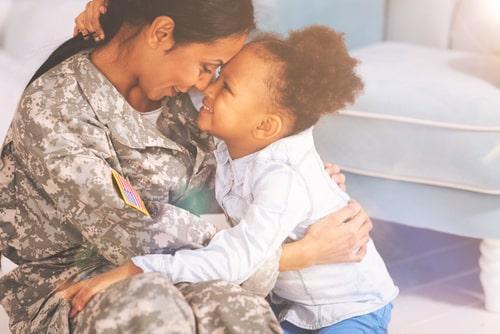 Child custody is often one of the most complex elements of a divorce, and this is especially true for parents serving in the military. The prospect of being away from your child during deployment is difficult enough. Not knowing how deployment could affect your visitation rights is even more difficult.
Fortunately, Texas law contains provisions for deployed military parents that can help make their deployment's effect on custody more straightforward, saving military members time and stress. As always, working with an experienced attorney is one of the best ways to ensure you have the time with your child to which you are entitled.
Who Does My Child Stay With When I am Deployed?
Texas law stipulates that a custodial parent who is deployed can ask the court to appoint another person as the child's temporary custodial caregiver. The court will generally designate temporary custody to the noncustodial parent unless it is not in the child's best interests.
If the child cannot stay with their noncustodial parent, the deploying custodial parent may choose someone. If the person chosen by the custodial parent is determined by the court not to be in the child's best interests, the court may choose another person. 
Once the custodial parent is back from deployment, the stand-in custody order will be terminated and the original custodial agreement will become effective once more.
Can My Parents Visit My Child While I am Deployed?
If a military member is not the custodial parent but has visitation rights for their child, they may designate those visitation rights to someone else while they are deployed. Visitation is commonly granted to grandparents, uncles and aunts, or stepparents. This allows the child to remain in contact with family members of the deployed parent even during periods of extended absence.
Military parents may also petition Texas courts for extra visitation time within 90 days after they return from deployment. If make-up visitation is determined to be in the child's best interest, a judge may grant the request. This can allow military parents to catch up on precious time with their child that was lost due to being deployed.
Speak with a Plano Child Custody Attorney
At the Law Office of Brian Bagley, we understand that military service can make child custody issues difficult. We are committed to helping military families obtain a favorable outcome in their divorce or child custody dispute, and we will always take your individual circumstances into consideration. Let a Collin County child custody attorney help you achieve a resolution that works for you. Call our office at (972) 843-7158 to schedule a free consultation today.
Source:
https://www.txaccess.org/visitation-parents-military