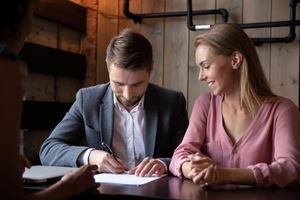 If you are married, it is common to find yourself worrying or wondering about your joint finances. You may not want to burden your spouse with any new debt you have taken on. You may even be considering a divorce and want to secure what you consider your separate property or assets. Like the better-known prenuptial agreement, a postnuptial agreement, also known as a marital property agreement, can be used to clarify what portion of a couple's property is shared and which is considered separate.
Benefits of Creating a Postnuptial Agreement
Under Texas law, a postnuptial agreement can be used by spouses to divide shared marital property into separate, individual property and merge previously separate property into marital property.
A common use of the agreement is to insulate each other from risk when taking on new debt or if one spouse entered the marriage with substantial debt. If one spouse is starting or investing in a new business opportunity, they could separate out that portion of their assets from the couple's community property. They also have the option to transfer assets, such as the marital house, to the other spouse so that it wouldn't be at risk if the business failed and creditors were looking for assets to repay the debts.
A postnuptial agreement can also be used to understand your spouse's entire financial situation better. This is especially beneficial for those couples who married after establishing their own careers. If you are going through tough times, a postnuptial agreement could achieve this goal in two ways. First, it forces spouses to be upfront with each other about their finances, assets, and debts, which are often significant factors in marital woes. Second, it can protect your assets and help you prepare in the case of a later divorce.
For a postnuptial agreement to be valid and enforceable in the case of a later divorce, it must be in writing, signed by both parties, not signed under duress or coercion, be free of any fraudulent information, and both spouses must fully disclose all financial information. During a divorce, the other spouse would have no claim to property or income that they agreed would be separate property.
Contact a Collin County Postnuptial Agreement Lawyer
To create a postnuptial agreement and for all your family law needs, you can trust the Plano family law attorneys at Law Office of Brian Bagley. We can clearly explain the process to you and answer any questions you have about creating an agreement and what should be included. To set up your free initial consultation, call our office at (972) 843-7158.
Source:
https://statutes.capitol.texas.gov/Docs/FA/htm/FA.4.htm